Brief history :
Status Quo are a British rock band (London, England) with strong boogie line. The group was founded by bassist Alan Lancaster and guitarist Francis Rossi in 1962.
They began as a rock and roll freakbeat band called The Spectres. By 1967, with very little commercial success, they discovered psychedelia and changed their name to Traffic (later Traffic Jam, to avoid confusion with Steve Winwood's Traffic.) At this time the line-up also included organist Roy Lynes and drummer John Coghlan. Late in 1967 they recruited second guitarist Rick Parfitt and became The Status Quo, scoring Top 10 singles with Pictures Of Matchstick Men and Ice in The Sun. "Pictures of Matchstick Men" remains the only Top 40 hit single the group has ever charted in the United States. They have never achieved the same level of success there, that they have enjoyed in their home country.
After their second album Spare Parts they decided to change into a heavy boogie rock band. During the seventies they became one of the UK's leading rock bands, gaining a faithful following due to their excellent live gigs. They showed a great amount of energy during this decade and in the early 80s. They and are best known for songs from this era such as Paper Plane (1972), Caroline (1973), Down Down (1975), John Fogerty's Rockin' All Over The World (1977) and Whatever You Want (1979). Down Down topped the UK charts in January 1975 (their only British No. 1 single to date).
Lynes left in 1971, to be replaced initially by guest keyboard players on album, including Jimmy Horowitz and John Parker, and later on a more permanent basis on record and stage by ex-The Herd and Judas Jump member Andy Bown, though as he was contracted as a solo artist with EMI, he was not credited as a full-time member until 1982. Coghlan left in late 1981, to be replaced by Pete Kircher from 1960s band Honeybus. This short-lived lineup played its last gig in 1984 at the Milton Keynes Bowl, and reformed briefly to open the Live Aid charity event at Wembley in July 1985.
That year Rossi recorded and released two solo singles with longtime writing partner Bernie Frost. Parfitt was also working on a solo album which is still unreleased, although some tracks have been re-recorded by Status Quo and released as 'B' sides. Bass player John Edwards and drummer Jeff Rich, both ex-Judie Tzuke Band and Climax Blues Band, assisted Parfitt in the studio.
In the summer of 1985 Rossi, Parfitt and Bown, along with Edwards and Rich started work on a new album. Lancaster, who was living in Australia at the time, took out a legal injunction to stop the band using the Status Quo name on any records. The injunction was lifted after a court hearing in January 1986. Lancaster had had increasing musical differences with the group, notably during the sessions for the 1983 album Back to Back over two tracks which became hit singles for the group around that time.
He had written Ol' Rag Blues, but was angered when the producers chose to release a version with Rossi singing lead vocal in preference to the one sung by himself, and he objected to Marguerita Time, which he thought unduly corny and too pop-oriented for them. He remained in Australia, forming a band called Party Boys, who had no success in Britain.
The commercially successful In The Army Now album was released in 1986, and the band continues to this day with the revised personnel. Rich left in 2000 and was replaced by Matthew Letley. Andrew Bown took a year off at the same time for family reasons and was replaced on stage by Paul Hirsh, formerly of Voyager.
According to Songfacts.com, Quo's 29th studio album, Quid Pro Quo, was released in a deluxe format exclusively at Tesco on 30 May 2011. The regular edition was released elsewhere a week later on 7th June. The LP debuted at #10 in the UK charts, the band's best chart placing for an original album since Don't Stop peaked at #2 in 1996.
Although Quo still release new material every few years, recent years have seen them release a series of greatest hits compilations and covers albums. One of the band's most recent original albums, Heavy Traffic, shows a return to classic form not seen since the late 1970s.
Status Quo have often been characterized, perhaps unfairly, as producing very simple songs, always in the same format: 4/4 rhythm, three chord structure. However, the recordings from their first decade demonstrate a diversity in musical style and complexity to rival most of the late 60s UK bands, and several of their singles and album tracks from later show considerable subtlety, not least the mainly acoustic 1979 single Living On An Island, and the 1980 album track, later a single, Rock'n'Roll, which is ironically one of the least rock'n'roll-like songs they have ever recorded.
They have a loyal group of fans in the United Kingdom, where they have enjoyed more hits than any other group in rock and roll history (over 60 as of mid-2005), as well as a big following in Europe, notably in The Netherlands.
In September 2005 a contestant on the long-running BBC television quiz programme Mastermind chose Status Quo as his specialist subject. That same year they took part in the long running ITV soap opera Coronation Street in a storyline which involved them being sued by the layabout Les Battersby.
In December 2005 it was announced that Parfitt was undergoing tests for throat cancer. All subsequent dates of the UK tour were cancelled as a result. However on 20th December it was further announced that the growths found in Parfitt's throat were benign and had been removed.
Quo have even been the subject of a Doctoral Thesis, purporting to demonstrate that their music composition skills could be favourably compared to the likes of the classical music composers, such as Beethoven!
In Autumn 2008 German techno legend Scooter released new single Jump that rock together with Status Quo.
On 1 February 2016, it was officially announced that Status Quo, in addition to the spring and summer dates already scheduled, would tour Europe starting in October. The final dates would take place in the UK towards the end of the year, after which the group would retire from playing 'electric' tours.
On 28 October 2016, Rick Parfitt permanently retired from live performances after suffering a heart attack earlier the same year. On 24 December 2017, he died in hospital in Marbella, Spain as a result of severe infection, after suffering an injury to his shoulder. Parfitt's funeral was held at Woking Crematorium on 19 January 2017. Irish guitarist Richie Malone, who had substituted for Parfitt during some 2016 live shows, took his place on rhythm guitar.
________________________________________________________________________________________________________________________________

Bref historique :

Status Quo est un groupe de rock britannique (Londres, Angleterre) avec une forte ligne de boogie. Le groupe a été fondé par le bassiste Alan Lancaster et le guitariste Francis Rossi en 1962.
Ils ont commencé comme un groupe de rock and roll freakbeat appelé The Specters. En 1967, avec très peu de succès commercial, ils découvrent le psychédélisme et changent leur nom en Traffic (plus tard Traffic Jam, pour éviter toute confusion avec Traffic de Steve Winwood.) À cette époque, la formation comprenait également l'organiste Roy Lynes et le batteur John Coghlan. À la fin de 1967, ils recrutèrent le deuxième guitariste Rick Parfitt et devinrent The Status Quo, marquant le Top 10 des singles avec Pictures Of Matchstick Men et Ice in The Sun. "Pictures of Matchstick Men" reste le seul hit du Top 40 que le groupe ait jamais enregistré aux États-Unis. Ils n'y ont jamais obtenu le même niveau de succès que celui dont ils jouissent dans leur pays d'origine.
Après leur deuxième album Spare Parts, ils ont décidé de se transformer en un groupe de rock boogie. Au cours des années soixante-dix, ils sont devenus l'un des principaux groupes de rock du Royaume-Uni, gagnant un public fidèle grâce à leurs excellents concerts live. Ils ont fait preuve d'une grande énergie durant cette décennie et au début des années 80. Ils sont surtout connus pour des chansons de cette époque telles que Paper Plane (1972), Caroline (1973), Down Down (1975), Rockin 'All Over The World de John Fogerty (1977) et Whatever You Want (1979). Down Down a dominé les charts britanniques en janvier 1975 (leur seul single britannique n ° 1 à ce jour).
Lynes a quitté en 1971, pour être remplacé initialement par des claviéristes invités sur l'album, dont Jimmy Horowitz et John Parker, et plus tard de manière plus permanente sur disque et sur scène par l'ancien membre de The Herd et Judas Jump Andy Bown, bien que tel qu'il était embauché comme artiste solo avec EMI, il ne fut crédité comme membre à plein temps qu'en 1982. Coghlan quitta fin 1981, pour être remplacé par Pete Kircher du groupe Honeybus des années 1960. Cette formation de courte durée a joué son dernier concert en 1984 au Milton Keynes Bowl et s'est brièvement reformée pour ouvrir l'événement caritatif Live Aid à Wembley en juillet 1985.
Cette année-là, Rossi a enregistré et sorti deux singles en solo avec son partenaire d'écriture de longue date, Bernie Frost. Parfitt travaillait également sur un album solo qui n'est toujours pas sorti, bien que certains morceaux aient été réenregistrés par Status Quo et sortis en faces «B». Le bassiste John Edwards et le batteur Jeff Rich, tous deux ex-Judie Tzuke Band et Climax Blues Band, ont assisté Parfitt en studio.
À l'été 1985, Rossi, Parfitt et Bown, avec Edwards et Rich ont commencé à travailler sur un nouvel album. Lancaster, qui vivait en Australie à l'époque, a pris une injonction légale pour empêcher le groupe d'utiliser le nom Status Quo sur tous les disques. L'injonction fut levée après une audience en janvier 1986. Lancaster avait eu des différences musicales croissantes avec le groupe, notamment lors des sessions de l'album de 1983 Back to Back sur deux titres qui devinrent des singles à succès pour le groupe à cette époque. Il avait écrit Ol 'Rag Blues, mais était en colère lorsque les producteurs ont choisi de sortir une version avec Rossi chantant la voix principale de préférence à celle chantée par lui-même, et il s'est opposé à Marguerita Time, qu'il trouvait indûment ringard et trop pop. pour eux. Il est resté en Australie, formant un groupe appelé Party Boys, qui n'a pas eu de succès en Grande-Bretagne.
L'album à succès commercial In The Army Now est sorti en 1986, et le groupe continue à ce jour avec le personnel révisé. Rich est parti en 2000 et a été remplacé par Matthew Letley. Andrew Bown a pris un an de congé en même temps pour des raisons familiales et a été remplacé sur scène par Paul Hirsh, ancien du Voyager.
Selon Songfacts.com, le 29e album studio de Quo, Quid Pro Quo, est sorti dans un format de luxe exclusivement chez Tesco le 30 mai 2011. L'édition régulière est sortie ailleurs une semaine plus tard le 7 juin. Le LP a fait ses débuts à la 10e place des charts britanniques, le meilleur classement du groupe pour un album original depuis que Don't Stop a culminé à la deuxième place en 1996.
Bien que Quo publie toujours du nouveau matériel toutes les quelques années, ces dernières années les ont vus sortir une série de compilations de grands succès et d'albums de reprises. L'un des albums originaux les plus récents du groupe, Heavy Traffic, montre un retour à la forme classique jamais vu depuis la fin des années 1970.
Status Quo a souvent été caractérisé, peut-être injustement, comme produisant des chansons très simples, toujours dans le même format: rythme 4/4, structure à trois accords. Cependant, les enregistrements de leur première décennie démontrent une diversité de styles musicaux et de complexité pour rivaliser avec la plupart des groupes britanniques de la fin des années 60, et plusieurs de leurs singles et titres d'albums plus tard montrent une subtilité considérable, notamment le single de 1979 principalement acoustique Living On An. Island, et la chanson de l'album de 1980, plus tard un single, Rock'n'Roll, qui est ironiquement l'une des chansons les moins rock'n'roll qu'ils aient jamais enregistrées.
Ils ont un groupe de fans fidèles au Royaume-Uni, où ils ont connu plus de succès que tout autre groupe de l'histoire du rock and roll (plus de 60 à la mi-2005), ainsi qu'un grand nombre de fans en Europe, notamment aux Pays-Bas. .
En septembre 2005, un participant au programme de quiz télévisé de longue date de la BBC, Mastermind, a choisi le statut Quo comme sujet spécialisé. Cette même année, ils ont participé au long feuilleton ITV Coronation Street dans un scénario qui les impliquait d'être poursuivis par le profane Les Battersby.
En décembre 2005, il a été annoncé que Parfitt subissait des tests de dépistage du cancer de la gorge. Toutes les dates suivantes de la tournée britannique ont été annulées en conséquence. Cependant, le 20 décembre, il a en outre été annoncé que les excroissances trouvées dans la gorge de Parfitt étaient bénignes et avaient été supprimées.
Quo ont même fait l'objet d'une thèse de doctorat, prétendant démontrer que leurs compétences en composition musicale pourraient être favorablement comparées à celles des compositeurs de musique classique, comme Beethoven!
À l'automne 2008, la légende de la techno allemande, Scooter, a sorti un nouveau single Jump qui jouait avec Status Quo.
Le 1er février 2016, il a été officiellement annoncé que Statu Quo, en plus des dates de printemps et d'été déjà programmées, ferait une tournée en Europe à partir d'octobre. Les dates finales auraient lieu au Royaume-Uni vers la fin de l'année, après quoi le groupe se retirerait des tournées «électriques».
Le 28 octobre 2016, Rick Parfitt s'est retiré définitivement des spectacles après avoir subi une crise cardiaque au début de la même année. Le 24 décembre 2017, il est décédé à l'hôpital de Marbella, en Espagne, des suites d'une infection grave, après s'être blessé à l'épaule. Les funérailles de Parfitt ont eu lieu au crématorium de Woking le 19 janvier 2017. Le guitariste irlandais Richie Malone, qui avait remplacé Parfitt lors de certains concerts de 2016, a pris sa place à la guitare rythmique.
_______________________________________________________________________________________________________
Read more on Last.fm. User-contributed text is available under the Creative Commons By-SA License; additional terms may apply.
Top Titres
1
In The Army Now
2
Whatever You Want
3
Rockin' All Over the World
4
Pictures Of Matchstick Men
5
Down Down
6
Caroline
7
Roll Over Lay Down
8
What You're Proposing
9
Paper Plane
10
The Wanderer
Top Albums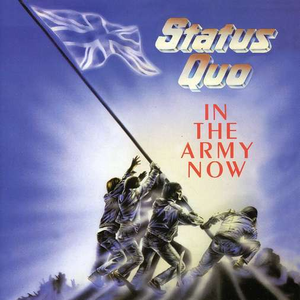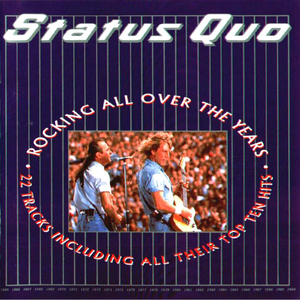 Rocking All Over the Years
pistes
Rockin' All Over The World
pistes