Brief history :
Formed in 1983 in La Mirada, California by brothers Michael and Robert Sweet and guitarist Oz Fox as Roxx Regime, they would change their message and name to Stryper to go on to be the first Christian rock band to be recognized by the mainstream.
According to the To Hell With The Devil Songfacts, Stryper took their name from a Bible verse Isaiah 53: 5, which says "….by His stripes we are healed." Stryper they explained was an acronym meaning "Salvation Through Redemption Yielding Peace, Encouragement and Righteousness."
In 1983 they were signed by Enigma Records and released their first album The Yellow and Black Attack. By the mid-1980s, Stryper saw their most successful period starting with the release of To Hell with the Devil which achieved Platinum sales status.
The band earned their stripes (pun intended) on the Los Angeles metal club circuit and in 1984, after recruiting bass player Tim Gaines, signed with Enigma Records and released their debut mini-album, The Yellow And Black Attack (Y&BA).
Their first full-length release, Soldiers Under Command, sold over half a million units worldwide in the eighties, and stayed on Billboard's Top 200 album chart for over forty weeks. In addition to the hard-rocking tunes that Stryper's core audience has come to expect, the ballad "Honestly" from their platinum selling 1986 release To Hell With The Devil hit the Top-40 charts. The video for "Honestly" rapidly became the number one most-requested video on MTV. 1988 saw the near-platinum release of In God We Trust, as well as renewed success on MTV, which was bombarded by thousands of phone requests for "Always There For You".
Coming off the acclaim of the 1989 tour supporting IGWT, the band released Against The Law which shipped gold in the fall of 1990. Despite its sales success, some fans were confused by Stryper's change in appearance and lyrics. This lead to numerous rumors and questions about the sincerity of Stryper's faith. "We were making a grab for musical freedom," says Robert Sweet, Stryper's drummer. "But we never should have let that been misinterpreted as a change in our beliefs."
In 1991, Enigma Records went bankrupt, and Stryper was left without a record company. This was short-lived, as they were quickly picked up by Hollywood Records. In the summer of 1991 they released Can't Stop The Rock, a "best of" album with two new tracks.
In January of 1992, Michael Sweet left the Stryper to pursue a solo career. Although officially Robert Sweet, Oz Fox and Tim Gaines continued as a three piece for another year, there were no further studio recordings as Stryper once Mike left.
Michael Sweet was the first to re-appear back on the scene, when he secured a record deal with the Christian label Benson Records. (Benson distributed Stryper to the Christian retail stores in the 80's.) This union produced two albums: the self titled Michael Sweet, and Real.
In 1998, Mike put out a full length demo by himself titled Truth. This generated label interest, and he was soon signed to Restless Records. The remastered and updated version of Truth was released early in 2001.
Tim Gaines and Robert Sweet joined legendary Christian guitar player Rex Carrol in the band King James. Although King James released two releases to date, Tim and Bob only performed on the first album which was released in 1994 on the Christian label Star Song.
Absent from the limelight for many years was Oz Fox, who last was seen making guest appearances on several Christian releases including JC & The Boyz, Bride, and Ransom. Oz and Tim joined forces once again in 1995 to form Sin Dizzy. Together with Bobby MacNeil on guitar and John Bocanegra on drums, they released He's Not Dead in 1998. Tim left Sin Dizzy in 2000 to continue working musically with his wife, Irene Kelly.
Robert Sweet released his solo release titled Love Trash in 2000, in which he plays all the instruments on the album and features Larry Worley on vocals. (Ex-lead singer of Christian rock band Fear Not.) Robert recently formed Blissed with fellow members David Pearson, Trevor Barr, and Jeff Miller. Their album, Waking Up The Dead, was released in early 2003.
On May 21st of 2000, history was made when Stryper hit the stage again for an informal jam at the first annual Stryper expo in New Jersey. December 16th of 2000 marked the first full blown set performed by Stryper in 9 years, held in Costa Rica. The second annual Stryper expo was held in Azusa, California on May 18th and 19th of 2001. The two day expo featured multiple bands and vendors, with Stryper closing the expo with a concert. Shortly after, Stryper played to one of their largest crowds at Cornerstone at Bushnell, Illinois on July 7th, 2001.
On March 25th of 2003, Hollywood Records released Seven, The Best Of Stryper that included 2 new songs (Something and For You). That fall, they embarked on a 35 city tour that both fans and critics agreed was one of the hottest tours of 2003. In March of 2004, Stryper triumphantly returned to Puerto Rico to play a sold out show that was recorded for a DVD release scheduled to come out later in the year. The prayers of Stryper fan everywhere were answered in May of 2003 with the new live CD recording titled 7 Weeks: Live In America.
Stryper went on from there to record a full studio album, "Reborn", in 2005. The album featured a much harder sound than their earlier material. "Reborn" would be offered to pre-order customers complete with an autographed STRYPER pocket bible. To promote the album to distributors, STRYPER's Michael Sweet and Oz Fox took the unorthodox but personal approach of meeting with EMI branch employees in early May in both Atlanta and Philadephia to perform acoustic renditions of 'Open Your Eyes', 'Make You Mine' and 'Passion'. MTM Music took the album for Europe, this version released in completely different cover art. The initial pressing of US copies would unexpectadly give early purchasers a collectors item, as the manufacturer pressed the CD with an incorrect running order to that detailed on the sleeve. 'Reborn' sold over 8,000 copies in its first week of US sales to debut at no. 111 on the Billboard charts.
Notably STRYPER was set to co-headline what was billed as "Hell and Heaven United" alongside arch nemesi SLAYER and DEICIDE for the 'Monterrey Metal Fest', on September 23rd at the Coca Cola Auditorium in Monterrey, Nuevo Leon, Mexico. However, SLAYER withdrew, quoting "personal reasons". Whilst retaining ties to STRYPER, Oz Fox joined the ranks of BLOODGOOD in December.
In early 2007 Sony BMG released a new STRYPER live album, entitled simply 'Extended Versions', featuring live performances from the 2003 reunion tour.
'Murder by Pride' was Stryper's next album. The first single for the album, 'Peace of Mind', a cover of the classic Boston song, debuted at #27 on Christianrock.net on October 24, 2008 and peaked at #1 on February 22, 2009.
Robert Sweet did not play on the album because of some complicated reasons. Musicwise, the singer Michael Sweet has commented that "After years of speaking to fans and hearing comments like 'more guitars,' 'more solos' and 'more screams,' I decided to keep those comments in mind as I wrote each song. It was important to me to try to get back to that early sound of Stryper yet at the same time, to remain relevant today. It's certainly not an easy thing to do but as I listen to 'Murder By Pride', I think that was accomplished."
Stryper's ninth studio album The Covering was released by Big 3 Records/Sony on February 15, 2011. The album is a collection of twelve cover songs from bands that inspired Stryper and helped to shape the band's sound and musical identity. Speaking with Michael Sweet in a 2011 interview, he explained: "It really wasn't a difficult process, because we knew exactly where our history lied and our roots lied, and we knew the groups that influenced us the most. And we were all in agreement. Because, for the most part, it's all the same bands that influenced the four of us."
________________________________________________________________________________________________________________________________

Bref historique :
Formé en 1983 à La Mirada, en Californie, par les frères Michael et Robert Sweet et le guitariste Oz Fox sous le nom de Roxx Regime, ils changeraient leur message et leur nom en Stryper pour devenir le premier groupe de rock chrétien à être reconnu par le grand public.
Selon les Songfacts To Hell With The Devil, Stryper tire son nom d'un verset biblique Isaïe 53: 5, qui dit "…. Par Ses meurtrissures nous sommes guéris." Stryper, expliquèrent-ils, était un acronyme signifiant «Le salut par la rédemption, apportant la paix, l'encouragement et la droiture».
En 1983, ils ont été signés par Enigma Records et ont sorti leur premier album The Yellow and Black Attack. Au milieu des années 1980, Stryper a vu sa période la plus réussie commencer avec la sortie de To Hell with the Devil qui a atteint le statut de vente Platine.
Le groupe a gagné ses galons (jeu de mots) sur le circuit du club de métal de Los Angeles et en 1984, après avoir recruté le bassiste Tim Gaines, a signé avec Enigma Records et a sorti son premier mini-album, The Yellow And Black Attack (Y&BA).
Leur premier album, Soldiers Under Command, s'est vendu à plus d'un demi-million d'unités dans le monde dans les années quatre-vingt, et est resté dans le palmarès des 200 meilleurs albums de Billboard pendant plus de quarante semaines. En plus des airs hard-rock auxquels le public principal de Stryper s'est habitué, la ballade "Honestly" de leur sortie de platine vendue en 1986, To Hell With The Devil, a atteint le Top-40. La vidéo de "Honestly" est rapidement devenue la vidéo la plus demandée sur MTV. 1988 a vu la sortie quasi-platine de In God We Trust, ainsi qu'un succès renouvelé sur MTV, qui a été bombardé par des milliers de demandes téléphoniques pour "Always There For You".
Après avoir été acclamé par la tournée de 1989 soutenant IGWT, le groupe a sorti Against The Law qui a livré de l'or à l'automne 1990. Malgré son succès commercial, certains fans ont été déroutés par le changement d'apparence et de paroles de Stryper. Cela a conduit à de nombreuses rumeurs et questions sur la sincérité de la foi de Stryper. «Nous tentions de gagner la liberté musicale», déclare Robert Sweet, le batteur de Stryper. "Mais nous n'aurions jamais dû laisser cela être mal interprété comme un changement dans nos croyances."
En 1991, Enigma Records a fait faillite et Stryper s'est retrouvé sans maison de disques. Ce fut de courte durée, car ils furent rapidement repris par Hollywood Records. À l'été 1991, ils sortent Can't Stop The Rock, un album "best of" avec deux nouveaux morceaux.
En janvier 1992, Michael Sweet quitte le Stryper pour poursuivre une carrière solo. Bien que officiellement Robert Sweet, Oz Fox et Tim Gaines aient continué en tant que trois morceaux pendant une autre année, il n'y a pas eu d'autres enregistrements en studio en tant que Stryper une fois que Mike est parti.
Michael Sweet a été le premier à réapparaître sur la scène, lorsqu'il a signé un contrat d'enregistrement avec le label chrétien Benson Records. (Benson a distribué Stryper aux magasins de détail chrétiens dans les années 80.) Ce syndicat a produit deux albums: celui de Michael Sweet et Real. En 1998, Mike a sorti une démo complète par lui-même intitulée Truth. Cela a suscité l'intérêt du label et il a rapidement été signé chez Restless Records. La version remasterisée et mise à jour de Truth est sortie au début de 2001.
Tim Gaines et Robert Sweet ont rejoint le légendaire guitariste chrétien Rex Carrol dans le groupe King James. Bien que King James ait sorti deux sorties à ce jour, Tim et Bob n'ont joué que sur le premier album sorti en 1994 sur le label chrétien Star Song.
Oz Fox, qui a été vu pour la dernière fois faire des apparitions dans plusieurs versions chrétiennes, dont JC & The Boyz, Bride et Ransom, était absent des projecteurs pendant de nombreuses années. Oz et Tim ont uni leurs forces à nouveau en 1995 pour former Sin Dizzy. Avec Bobby MacNeil à la guitare et John Bocanegra à la batterie, ils ont sorti He Not Dead en 1998. Tim a quitté Sin Dizzy en 2000 pour continuer à travailler musicalement avec sa femme, Irene Kelly.
Robert Sweet a sorti son album solo intitulé Love Trash en 2000, dans lequel il joue tous les instruments de l'album et met en vedette Larry Worley au chant. (Ancien chanteur principal du groupe de rock chrétien Fear Not.) Robert a récemment formé Blissed avec ses collègues David Pearson, Trevor Barr et Jeff Miller. Leur album, Waking Up The Dead, est sorti au début de 2003.
Le 21 mai 2000, l'histoire a été écrite lorsque Stryper est de nouveau monté sur scène pour un jam informel lors de la première exposition annuelle de Stryper dans le New Jersey. Le 16 décembre 2000 a marqué le premier ensemble complet joué par Stryper en 9 ans, tenu au Costa Rica. La deuxième exposition annuelle de Stryper a eu lieu à Azusa, en Californie, les 18 et 19 mai 2001. L'exposition de deux jours a présenté plusieurs groupes et vendeurs, Stryper clôturant l'exposition avec un concert. Peu de temps après, Stryper a joué devant l'une de leurs plus grandes foules à Cornerstone à Bushnell, dans l'Illinois, le 7 juillet 2001.
Le 25 mars 2003, Hollywood Records a sorti Seven, The Best Of Stryper qui comprenait 2 nouvelles chansons (Something and For You). Cet automne-là, ils se sont lancés dans une tournée de 35 villes que les fans et les critiques ont convenu que c'était l'une des tournées les plus chaudes de 2003.
En mars 2004, Stryper est retourné triomphalement à Porto Rico pour jouer un spectacle à guichets fermés qui a été enregistré pour une sortie DVD prévue plus tard dans l'année. Les prières des fans de Stryper partout ont été exaucées en mai 2003 avec le nouvel enregistrement en direct sur CD intitulé 7 Weeks: Live In America.
Stryper a continué à enregistrer un album studio complet, "Reborn", en 2005. L'album a présenté un son beaucoup plus dur que leur matériel précédent. "Reborn" serait offert aux clients en précommande avec une bible de poche STRYPER autographiée. Pour promouvoir l'album auprès des distributeurs, Michael Sweet et Oz Fox de STRYPER ont adopté l'approche peu orthodoxe mais personnelle de rencontrer les employés de la succursale EMI début mai à Atlanta et à Philadephia pour effectuer des interprétations acoustiques de 'Open Your Eyes', 'Make You Mine' et 'La passion'. MTM Music a pris l'album pour l'Europe, cette version est sortie dans une pochette complètement différente. Le pressage initial des copies américaines donnerait sans surprise aux premiers acheteurs un article de collection, car le fabricant a pressé le CD avec un ordre de marche incorrect à celui détaillé sur la pochette. «Reborn» s'est vendu à plus de 8 000 exemplaires au cours de sa première semaine de ventes aux États-Unis pour faire ses débuts au no. 111 sur les graphiques Billboard.
Notamment STRYPER devait co-titre de ce qui a été présenté comme "Hell and Heaven United" aux côtés de l'arch Nemesi SLAYER et DEICIDE pour le "Monterrey Metal Fest", le 23 septembre à l'Auditorium Coca Cola de Monterrey, Nuevo Leon, Mexique. Cependant, SLAYER s'est retiré, citant des "raisons personnelles". Tout en conservant ses liens avec STRYPER, Oz Fox a rejoint les rangs de BLOODGOOD en décembre.
Début 2007, Sony BMG a sorti un nouvel album live STRYPER, intitulé simplement «Extended Versions», mettant en vedette des performances live de la tournée de réunion de 2003.
«Murder by Pride» était le prochain album de Stryper. Le premier single de l'album, 'Peace of Mind', une reprise de la chanson classique de Boston, a fait ses débuts à la 27e place sur Christianrock.net le 24 octobre 2008 et a culminé à la première place le 22 février 2009.
Robert Sweet n'a pas joué sur l'album pour des raisons compliquées. Musicwise, le chanteur Michael Sweet a commenté: "Après des années à parler aux fans et à entendre des commentaires comme" plus de guitares "," plus de solos "et" plus de cris ", j'ai décidé de garder ces commentaires à l'esprit pendant que j'écrivais chaque chanson. était important pour moi d'essayer de revenir à ce son ancien de Stryper en même temps, de rester pertinent aujourd'hui. Ce n'est certainement pas une chose facile à faire, mais lorsque j'écoute «Murder By Pride», je pense que c'est accompli . "
Le neuvième album studio de Stryper, The Covering, est sorti par Big 3 Records / Sony le 15 février 2011. L'album est une collection de douze reprises de groupes qui ont inspiré Stryper et ont contribué à façonner l'identité sonore et musicale du groupe. S'adressant à Michael Sweet dans une interview en 2011, il a expliqué: "Ce n'était vraiment pas un processus difficile, car nous savions exactement où se situaient notre histoire et nos racines, et nous connaissions les groupes qui nous ont le plus influencés. Et nous étions tous. d'accord. Parce que, pour la plupart, ce sont tous les mêmes groupes qui nous ont influencés tous les quatre".

_______________________________________________________________________________________________________
Read more on Last.fm. User-contributed text is available under the Creative Commons By-SA License; additional terms may apply.
Top Titres 1
To Hell With The Devil
2
Honestly
3
Calling On You
4
Soldiers Under Command
5
Free
6
In God We Trust
7
Always There For You
8
The Way
9
Makes Me Wanna Sing
10
More Than A Man
Top Albums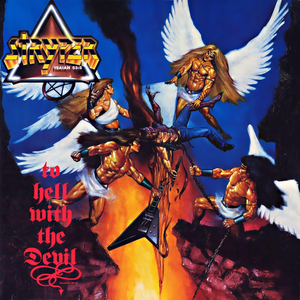 To Hell With The Devil
pistes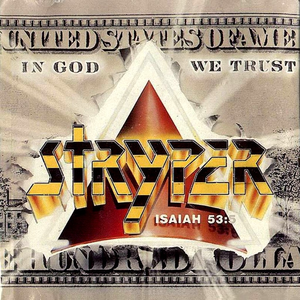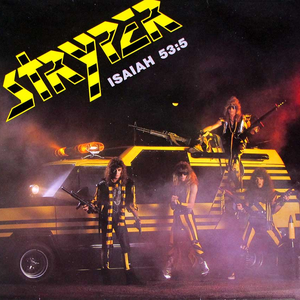 Soldiers Under Command
pistes